April 12th - June 14th, 2014
Art Exhibit - Goelet Gallery
Transformations Through Clay
Marilyn Richeda Ceramics
"My current work includes the figure. This series combines human and animal parts which you might see in your dreams. As in dreams, some of the figures are grotesque, some scary, some simply humorous. They represent my feelings worked in clay. My animated figures are not defined as male or female. They tell open ended stories through pose, expression and brightly colored surfaces. In many ways color is just as important as the narrative.
Influences for color come from those cars and trucks that I see on roads that reveal their wildly painted surfaces. Sometimes informing me of a color combination for an entire piece of work not thought of earlier. Likewise, I observe how people use color as they dress and present themselves for the day. Even looking at what comes in the mail may sway and impress me to take note. After all this, I am disciplined enough to then want to play around with and try out these ideas.
What influences my work? It may originate with an image from books, magazines or gallery and museum visits. These images then get altered by time and my personal history. Work begins with the progression of pieces incorporating subtle changes. Each piece morphs into the next creating a continuing narrative.
These sculptures are my attempt to explore the feelings of isolation, fear, strength and bravery and to honor those elements of life that will remain mysteries."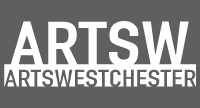 This program is made possible, in part, by Arts Westchester and additional funding from M&T Bank
For more information, please call (914) 669-5033 or email gardenprogram@yahoo.com